Give the gift of adventure...

The perfect gift for riders dreaming for adventure and wide-open spaces.

🔒 Secure online payment | 📨 Sent immediately by email | ⏳ Valid 2 years from the date of purchase | 🤠 Can be split and used over several trips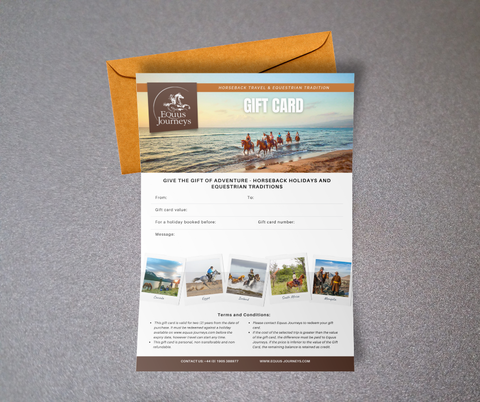 🗺️ OVER 200 TRIPS AVAILABLE

In 40 countries around the world

🐎 FOR ALL RIDERS

from complete beginners to experienced riders

🔍 EMBARK FOR NEW ADVENTURES

⏳ CHOOSE YOUR PERFECT DURATION

From long weekends (starting from three days) to extended wilderness expeditions (up to 23 days!)

How it works

1. Personalise your message

Choose the message you would like to appear on the card

2. Choose your amount

Please choose your preferred amount and make your payment*

3. Give your gift

Receive your gift card by email - print it out or pass it on!

The beneficiary only has to contact us to book their next riding adventure.

* If you would like to choose a different amount, please contact us by phone +44 (0)1905 388 977 or email info@equus-journeys.com

Terms and conditions

This gift card is valid for two (2) years from the date of purchase. It must be redeemed against a holiday available on

www.equus-journeys.com

before the expiry date, however travel can start any time.

This gift card is personal, non-transferable and non-refundable.


Please contact Equus Journeys to redeem your gift card.


If the cost of the selected trip is greater than the value of the gift card, the difference must be paid to Equus Journeys. If the price is inferior to the value of the Gift, the remaining balance is retained as credit for a future booking.

Where to go?

LOOKING FOR ROMANCE?

Rajasthan

- dive into the wonderful culture of India and the beautiful palaces of the maharajas.

Mozambique

- a heavenly land of turquoise lagoons, white sandy beaches and beautiful islands.

South Africa

- with breathtaking views across the African savannah from your beautiful lodge.
LOOKING FOR ADVENTURE?

Mongolia

- perhaps the last traditional riding culture in the world, discover this country of horse lovers and open grasslands.

North America

- conquer the Wild West on a horse drive, camping along the trail.

Argentina

- who hasn't dreamt of crossing the Andes on horseback? In the realm of the condor, discover paths across the mountains accessible only on horseback.
SEEKING TO LEARN?

Namibia

- learn about the sport of endurance riding - to ride at speed and monitor your horse for his wellbeing.

Montana

- whisper in your horse's ear and learn about natural horsemanship