Riding equipment

For every ride, you will find in the "horses and riding" section of the page an exhaustive packing list. Here are some of our insights on what to pack depending on your chosen riding tour. No need for last-minute frantic Google searches and online purchases - the Equus Journeys team has compiled the ultimate guide to help you pack your bags ahead of your riding holiday! In this blog post you will find plenty of tips that will guide you through the basics of what should be in your luggage - but always make sure to keep in mind the different conditions of each trip.




Luggage

Choose a good, solid woven canvas bag: wheeled hard shell suitcases are usually very convenient, but will be much less practical on a safari or riding expedition in the wilderness. An alternative if you'd like something with wheels is a soft-shell wheelie bag.

A good idea to use storage bags (also known as packing cubes). They are great for overnight stays in different places because you don't have to dig through your bag to find a pair of socks stuck between two t-shirts or your spare trousers

Clothing
Please keep in mind that even though most clothing items are available in many colours, neutral tones (like beige, light green, ochre) will be your best bet. This is especially true for horseback safaris since it will allow you to blend with the landscape and not scare the wildlife away. Avoid packing brand new items: make sure to wear them at least a couple of times before you depart for your riding adventure. This helps ensure they are comfortable and won't rub or chafe in all the wrong places…
These are our recommendations:
Neck - Buff neck wraps are tubes that you slip over your head. They act as a scarf, dust cover, head wrap, etc. There are anti-UV and anti-mosquito options, as well as warm or light fabrics depending on the season. A simple cotton scarf is also a great option and has other benefits such as keeping your shoulders warm on a cool evening.

Riding trousers - we recommend that you pack two pairs. Choose trousers that you are comfortable in, durable, light or warm (or even waterproof!) depending on your destination.

Long-sleeved blouses and shorts - these are the ideal companions for warm countries, as they protect your body from the sun, insect bites. They can be combined with tank tops, thermal underwear, jackets (…) depending on the weather

Thermal clothing - Made for cold climates where it is best to dress in layers. Nowadays, many brands offer effective and comfortable thermal clothing.

Rain gear - A gore-tex jacket is always useful, and can also act as a windbreaker. Rain trousers are a plus when you are in a potentially rainy country, like Iceland.

Gloves – A "must have" no matter where you are going to protect your hands from the elements and give you a better grip on the reins.

Underwear - Choose sports bras and underwear that give you good support and are comfortable. Make sure to test them before departing.

Helmet – We always recommend that you take your own hard hat to ensure a good fit. On some rides hard hats are compulsory. Nowadays there are many manufacturers of lightweight helmets, such as Troxel, which are ventilated and more comfortable in hot climates. There are also products available which fit over your helmet to make them look more like Western hats or to provide a brim for shade.


Shoes - Depending on the destination, a pair of lightweight trainers for walking. If there is a pool, or other settings that will allow you to swim, take a pair of flip-flops with you.


Boots - Opt for a pair of comfortable, worn and tested boots. Unless going on a dressage or jumping holiday, we recommend riding chaps that you can pair up with short boots or hiking shoes. Make sure that your boots have a little heel and they should also ideally provide some ankle support.
> For the majority of situations: light hybrid riding/hiking boots with a decent sole and heel, worn with short chaps.
> Dressage lessons: short boots with chaps (or long boots if you prefer).
> Horseback safari: light hybrid riding/hiking boots with short chaps. Long boots can get very hot. Full chaps can be useful because they protect from thorns. Don't take your best leather boots as they could be damaged. If visiting the Okavango Delta during high flood waters then it may be worth taking two pairs and choosing a material that will dry quickly, such as mesh chaps.
> Ranches and cattle drives: short boots with chaps or cowboy boots.
Extra tip: If you have a sensitive bottom, padded cycling shorts can be worn under your trousers to help prevent chaffing on long days on horseback and can be used as a low-cost saddle protector.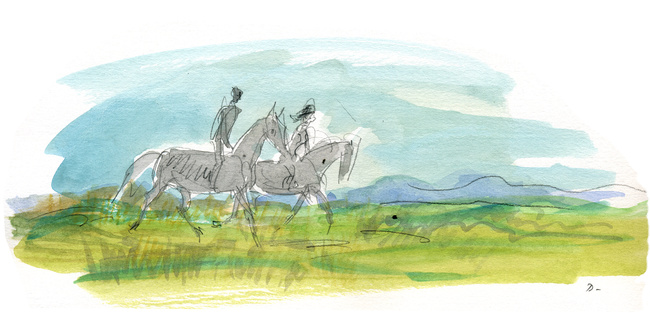 Miscellaneous Essentials

Headlamp - A must for all avid readers on safari, or just to use the bathroom during the night! If travelling to remote locations, then take a pocket torch with a dynamo which doesn't require batteries, and take a hybrid solar charger for charging your batteries.


Water bottles - Essential and eco-friendly, they are the attribute of every good traveller. A little tip: choose a "sport" lid, which allows you to drink without having to unscrew it.


Thermos flask - For coffee, tea or a good soup full of vitamins. Or perhaps something else… but we'll leave that up to you!


Sunglasses (with strap) - Sunglasses will protect you from the dust at a canter and of course they will protect your eyes from harmful rays.


Portable powerbank – Ideal so you can use your e-reader, sort photos on your mobile phone and recharge your camera battery.


Universal adapter - To charge all your devices around the world.


Headphones (bonus if they are noise-cancelling)- Enjoy your flight in peace while listening to your favourite playlist. If they are comfortable enough they might even be suitable to help you fall asleep in the evening.


Waterproof pouch - For storing your important documents and/or smartphone in case of heavy rain or ford crossings. This would be especially useful on a riding safari in the Okavango Delta, for instance!


Saddlebags: are often, but not always provided for you - they are fixed behind or in front of the saddle and allow you to bring small items with you, such as water bottles andsuncream. If you need to buy your own then choose flexible materials which are light and waterproof, but bear in mind that not all horses are happy to carry one. Leather or nylon laces are a cheap alternative for tying extra layers/jackets to the back of your saddle. You can also bring a bumbag (fanny pack).

Toiletries

Sunscreen - A sunscreen stick which is ideal for horse riding as it is easier to apply. You may also take a regular cream to use while hiking and exploring. We recommend 50 SPF all year round.


Lip balm - Protect your lips from dust, heat or cold. Choose one with sun protection.


Wet wipes - Ideal for camping trips, they keep you fresh and clean.


Miscellaneous - Dry shampoo, microfiber towel, double skin (to stick on thighs and buttocks), talcum powder. Choose biologically friendly liquid soap for washing in rivers

THE GOLDEN TIP: Every riding holiday has its own personalised packing list which is available on its respective page under the "Travel Info" tab.

You might be wondering if clothes and electronics are the only things you should be worrying about when going on your riding holiday, and of course the answer is no but we are here to help! You can check out the other travel guides we have developed and don't forget that your travel advisor will be an e-mail away to answer any additional questions you might have.