Every month or so, we send our subscribers a newsletter with our latest news and updates, discounts, new rides, etc.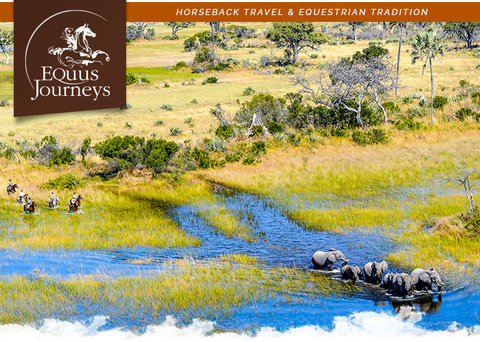 To kick off the New Year in style, we are delighted to announce our first post-covid escorted safari! British superstar eventer Ben Hobday is doing us the great pleasure to escort a safari at Macatoo camp, in Botswana, in December 2021. After tackling some of the biggest eventing tracks there are, Ben will now take on a different challenge and ride alongside some of Africa's most exciting wildlife with Equus Journeys. This is the opportunity of a lifetime to ride with an experienced eventer and horseman who will not only bring a wealth of equestrian knowledge to the table, but also pack a good sense of humour and inspiring riding stories. We are taking bookings now, so please contact us if you are interested in joining Ben on this incredible adventure.

January 2021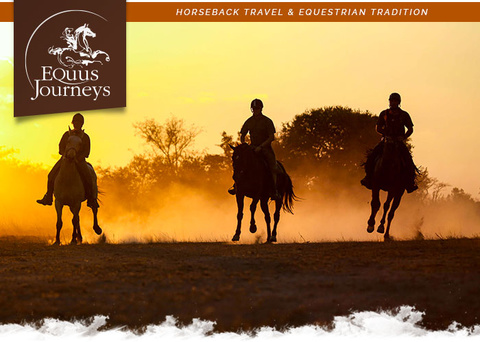 We have some exciting news… As we turn the page on a strange year, we look forward to 2021 and a much brighter year for international travel.

We are thrilled to welcome two new lovely ladies into the Equus family – everyone, please meet Louise and Saskia. Based in the US and Germany, respectively, they will represent Equus in each country. They bring a wealth of safari experience to the table and being both keen horseback explorers, they are already fitting well with the team. I hope you will join us in wishing them a big welcome, and perhaps book your next holiday with them very soon. We wish you a great holiday season and many wonderful adventures for 2021 and beyond!

December 2020

"If I have ever seen magic, it has been in Africa." - John Hemingway

Dear riders,

As we near the end of 2020 – a rollercoaster of a year - we think it's best to focus on what we "can" do, rather than on what we can't. Although many of you are still subject to lockdowns in our home countries, some of you are still allowed to travel (US riders, I'm looking at you!). With many countries reopening their borders, Africa is becoming the continent of choice for travellers looking to escape the covid blues. In this newsletter, we look at some worthy options for the coming months. "If I have ever seen magic, it has been in Africa." - John Hemingway

December 2020

The 2021 dates and rates for most of our holidays are already on the website. Please contact us if you would like to enquire about any of our trips – we will be delighted to help you book your holiday, or even just to have a preliminary chat for now.Summer has finally come to an end – for many of us, it has been a very strange one as we found ourselves stuck at home. As we look forward to 2021 and hopefully the resumption of international travel, we can't help but to also take a look back. In this newsletter, we have decided to share a few reviews from the pre-covid19 times. Here is to many more successful trips in the future!

The UK has recently lifted the ban on non-essential travel to several countries in Europe and some others further afield. This means that UK riders can travel to those countries without having to self-isolate upon their. See the full list on the Foreign Office website. Please note Scotland has a slightly different list, currently leaving out Spain. The countries that have made the list and where we are currently offering holidays are: Croatia, Finland, France, Hungary, Iceland, Ireland, Italy, The Azores, Spain, Turkey, Canada and New Zealand.

Meet us next week for a live Facebook chat with Andrew Gillies (Namibia Horse Safaris) and James and Janine Varden (Ride Zimbabwe)! We'll be discussing life on safari, what to expect from riding in Namibia or Zimbabwe, how to build more sustainable and eco-friendly horseback adventures in the face of environmental and poaching issues, and much more.

To our other riders – we have not forgotten you, but there are only so many rides we can squeeze in a newsletter. Wherever you are, please feel free to look at our website for options and contact us if you have any questions. With international air traffic at a standstill, many of you are turning to local travel for your spring and early summer adventures. It is, after all, a good opportunity to explore your home country until we can safely fly across the world again.

In this newsletter, we have outlined rides in the UK and Ireland for our British and Irish guests. We have not forgotten our American and Canadian riders and you will find below a selection of the finest trail rides and ranch holidays in the US and Canada!

May 2020