Preparing for your horseback holiday

Choosing your riding holiday

Before you decide on a horseback holiday destination you need to decide what sort of riding holiday appeals to you. There are so many
riding holidays
to choose from – safaris, dude ranch holidays, working cattle ranches, expeditions and instructional breaks. Just what kind of experience is it that you are looking for?
Do you want to see wildlife from horseback? Do you want to get away from it all for a few days and enjoy riding through unspoilt countryside? Do you want to ride through remote and spectacular scenery, that you would not be able to reach by any other means? Do you need a shower every night and a bed to sleep in; or are you happy to wash in mountain streams and sleep under canvas? Do you love the idea of reaching a new destination each day or would you prefer to unpack and ride out each day from the same place?

A horseback safari is truly amazing; nothing beats the excitement of being face to face with an elephant or the tranquillity of watching a herd of grazing zebra in the distance. Safaris where you might encounter elephant, lion or buffalo are only for experienced riders. We also offer horse safaris in areas where there is no dangerous game and they are suitable for all levels of rider and young children. The accommodation varies from luxury safari lodges and safari tents with their own private bathrooms to bush camps with bucket showers and long drop toilets.

A pack trip is an expedition on horseback, you will experience scenery which you would otherwise not have the chance to see. You will need to be physically fit as well as riding fit for the journey. On many of these trips you camp in small tents with sleeping bags and have limited toilet facilities. Often your belongings are carried by yaks or horses so you need to pack to a minimum and not worry about the luxuries in life! Some of these are long riding expeditions and need you being as fit as possible before you travel by also doing plenty of walking, running, cycling or swimming.

A ranch holiday is your chance to live the dream of being in a western film. You choose between a working ranch where you have the opportunity to be a real cowboy and move cattle, brand and vaccinate as well as undertaking the day to day ranch duties. There are guest ranches where you can enjoy the luxuries as well as working cattle and some ranches where you can enjoy amazing scenery and other activities.

On an Instructional riding holiday a good instructor and well-schooled horse can help you to improve your riding skills. Whether your interest lies in classical dressage or western riding; endurance or natural horsemanship; learning to play polo or simply improving your basic riding skills, there's a riding holiday to suit you. Classical dressage holidays are usually arena based, but learning to ride western or experiencing your first endurance ride are generally done while out on the ride. Improve your natural horsemanship skills on a ranch holiday in USA, practice piaffe and passage on a dressage holiday in Spain or experience the thrill of jumping cross country fences on a riding holiday in Ireland.

There are riding holidays that cater for all levels of experience, please make sure that you choose a ride that matches your expectations and riding ability. Ask as many questions as possible about the pace of the ride and how many hours you will be riding for. Speak to a member of staff who has been on that ride, so they can tell you from personal experience Let your riding holiday company guide you, they will help you choose the right holiday based on your experience, fitness levels and what you want from a holiday.

Please make sure to check out our blog, which is full of practical information, portraits, and ride reports. This is a great resource in addition to our website and we hope you find it helpful:
click here to visit our blog.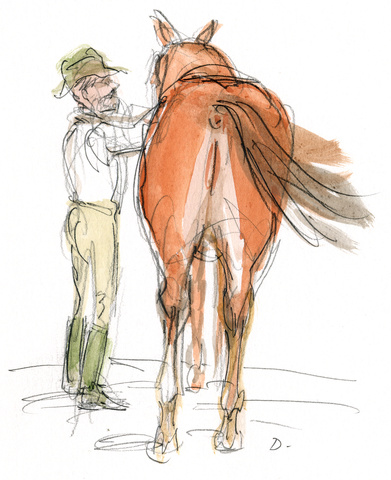 Riding equipment

For every ride, you will find in the "horses and riding" section of the page an exhaustive packing list. Here are some of our insights on what to pack depending on your chosen riding tour.

Boots:
- For the majority of situations: light hybrid riding/hiking boots with a decent sole and heel, worn with short chaps.
- Dressage lessons: short boots with chaps (or long boots if you prefer).

- Horseback safari: light hybrid riding/hiking boots with short chaps. Long boots can get very hot. Full chaps can be useful because they protect from thorns. Don't take your best leather boots as they could be damaged. If visiting the Okavango Delta during high flood waters then it may be worth taking two pairs and choosing a material that will dry quickly, such as mesh chaps.

- Ranches and cattle drives: short boots with chaps or cowboy boots.

Environment:
If travelling in remote locations, then take a pocket torch with a dynamo which doesn't require batteries, choose biologically friendly liquid soap for washing in rivers and take a hybrid solar charger for charging your batteries.
Hard Hat:
We always recommend that you take your own hard hat to ensure a good fit. On some rides hard hats are compulsory. Nowadays there are many manufacturers of lightweight helmets, such as Troxel, which are ventilated and more comfortable in hot climates. There are also products available which fit over your helmet to make them look more like Western hats or to provide a brim for shade.
Rainwear:
Can be essential dependent on your destination. Waterproof over trousers and jackets such as Barbour or Goretex protect against persistent rain. Avoid ponchos or flapping capes as they do not protect well and can frighten the horses. Always dismount your horse when adding waterproof layers.
Trousers:
Whatever you usually ride in and are most comfortable in - make sure you have worn them before travelling so you know they don't rub. Breeches, jodhpurs or a pair of jeans (without inside seams) are the most common. On ranches your guides will likely wear jeans or thick canvas trousers.
Saddle bags:
Are often, but not always provided for you - they are fixed behind or in front of the saddle and allow you to bring small items with you, such as water bottles andsuncream. If you need to buy your own then choose flexible materials which are light and waterproof, but bear in mind that not all horses are happy to carry one. Leather or nylon laces are a cheap alternative for tying extra layers/jackets to the back of your saddle.
10 pieces of advice for photographers

1 - The best pictures are taken on foot! With the agreement of the guide, ride ahead of the group, dismount your horse, choose the sport mode and take photos of the group approaching you.

2 - For pictures taken on horseback, try to ride slightly to one side of the group, keep hold of your reins and talk to your horse.

3 - Take pictures of the horses and their riders in motion. Focus on a section of the group - odd numbers of riders seems to work well.

4 - Early morning light or late afternoon light is preferred.

5 - To frame your subject well, move him out of the centre and respect the proportion of 1/3 sky, 2/3 earth or vice versa, and ensure there is something of interesting in all four corners of the picture.

6 - Use the automatic "burst" mode because horses rarely stay still for long adjustments!

7 - Favour a compact camera which has a built-in stabilizer and UV protection filter. Bulky cameras are not sensible on horseback.

8 - Take enough spare batteries with you and save your battery life by avoiding using the screen and not letting the batteries get cold.

9 - Protect your camera from dust, bad weather and falls by keeping it in your jacket, bumbag or in a bag attached to your belt and put the lanyard over your head.

10 - Ask the consent of people you meet on the trail before taking their photographs.