"IN RIDING A HORSE WE BORROW FREEDOM" - HELEN THOMSON

Equus Journeys was created in 2014 as the sister company to French agency Cheval d'Aventure. Established in 1972 by a French pioneer Anne Mariage, Cheval d'Aventure was bought by Christophe Leservoisier in 2005 and since then has grown into the leading agency for horse-riding holidays in France. Christophe's dream was to establish a company in the UK which would encompass the same spirit as Cheval d'Aventure, so together with Joanne Verth and Iris Lapprand, Equus Journeys was born. Equus Journeys are fully insured through Cheval d'Aventure in France and is staffed by an English team of horse riding holiday specialists. You are very welcome to visit Jo in Hopton Wafers, Shropshire.

Equus Journeys offer trail rides and riding holidays and specialise in equestrian traditions. With us, travel the world and discover the Marwari horses of India, step in the boots of the US cowboys and help them in their work, ride with the Butteri of Italy or discover the Berber culture of southern Morocco. We have the right riding holiday for any rider and will be pleased to advise you on the best possible options for, your family and your friends.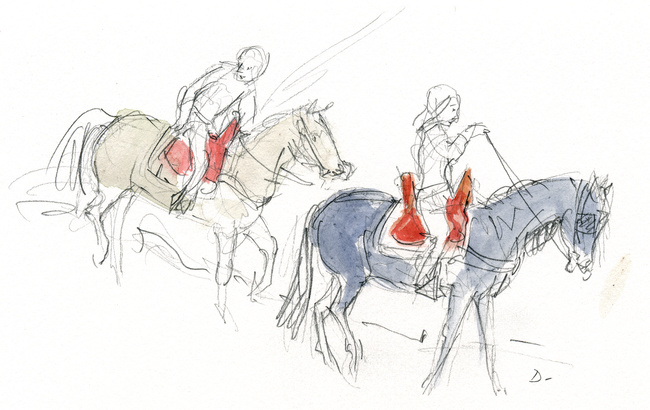 "In 2005, whilst riding on the first Atacama Crossing ride in Chile, the French adventurer Anne Mariage handed me the reins of Cheval d'Aventure, which she had created in 1972 during a horseback journey in Llanos, Colombia. Whilst riding alongside her on this path of the Inca's, I became aware of the spirit and values which constitute Cheval d'Aventure, and can be summarised in a few words: encounters; respect; curiosity; open-mindedness; riders and their horses the world over and the relationship between them. About ten year laters, we created Equus Journeys in England in the same spirit. Both words summarize everything: Equus - the Latin name for the horse, and Journeys - travelling and exploring beautiful destinations. Our desire to create new rides continues, with that same travelling soul and the same desire to share them with other curious riders around the world. It's time to start another journey again - to sit around a campfire under a sea of stars, enjoying conversations with new friends whilst the horses sigh contentedly in the darkness."
Christophe Leservoisier
"Finally completely free, connected only to the earth and sky, all senses are stimulated for a complete immersion in his powerful and generous nature. I made a pact with my horse, actor and accomplice, he guides me to an unknown world and to real meetings; each day I become a little more, a piece of the Universe. I am a nomad, my expedition companions are my family, the camp fire brings us together, time does not exist anymore."
Anne Mariage